| | |
| --- | --- |
| | Define companies |
You can define with LibrePlan the set of companies you work with andconfigure the role they play: A company can be a customer, a subcontractoror can be both things at the same time.
In addition, if your customer or subcontractor has LibrePlan deployed to plan his projects, both LibrePlan deployments can interoperate
| | |
| --- | --- |
| | Subcontract |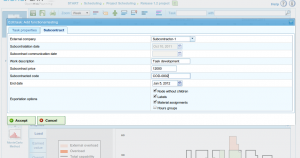 With LibrePlan you can send tasks to other companies. These tasks are not done by resources from your company but by external workers.
You can configure different information to send to your subcontractor like the price, the amount of hours to do, the WBS, the due date, etc
| | |
| --- | --- |
| | Report progress |
If you are managing a project which depends on providers you are for sure interested in knowing the progress of the tasks you subcontract.
LibrePlan helps you in this topic allowing to receive progress measurements from subcontractors. Moreover, they are integrated in the Gantt chart in anatural way, fact which lets you analyse how the subcontractor's events affect in your project plan.
| | |
| --- | --- |
| | Notify modifications on delivery dates |

On planning projects with outsourced tasks, changes in the initial delivery dates can arise. LibrePlan enables to manage these changes as part of its subcontracting capabilities:
Changes in the requested delivery date. If the customer needs to ask a subcontractor a different deadline in an outsourced task, it can request and send the new date to the customer through LibrePlan.
Changes in the end date to hand a project in committed by the subcontractor. If during the execution of the outsourced project a subcontract finishes ahead of time or behind time, he can communicate this to its customer through LibrePlan.
Two useful incomming communications lists, coming from subcontractorsand coming from customers, are also included to make it easy to review the data deliveries received over time.
| | |
| --- | --- |
| | Ready to talk to other software |
LibrePlan has web services to import and export data from/to other software in the company. This avoids you data duplication and saves time because you do not need to insert this data in a manual way in the program.
Data frequently shared among LibrePlan and other software pieces are:
Resources
Calendar
Project WBS
You can find all the details about the web services on this page in our repository.